Useful information
Tickets
Where to buy tickets?
Tickets for the 2018 Sion Festival can be purchased:
– online, directly though our ticket office
– at MANOR Customer Service, Avenue du Midi 3, 1950 Sion (Schedule)
– at the venue an hour before the concert begins. (We keep tickets in reserve for this purpose).
– via telephone
– at the head office of the Fondation Sion Violon Musique, Place Ambuel 7, 1950 Sion
– by appointment (027 323 85 69 or info@sion-festival.ch)
Our ticket office is open from 4 June to 2 September. Tickets can be purchased anytime over the internet, or Monday to Friday between 9.00am – 5.00 pm via telephone or in person.
Our ticket office is open from 4 June 2018!
Monday – Friday | 9 a.m. to 5 p.m
Where not to buy tickets
We do not recommend purchasing tickets from outlets not mentioned on our website or in our publications.
Children
Most our our concerts are suitable for children who are 6 years of age or over. Tickets for children can be purchased at the special price of CHF 20.- per ticket. We also highly recommend the  « 20 ans 100 francs » pass. For the modest sum of CHF 100.- this pass allows people under the age of 21 to access all of the cultural events in the Valais, such as this festival, for an entire year!
Venues
Map
Access
Public Transport
We highly recommend travelling to and from our venues by walking or using public transport.   For more information on arranging your arrival and departure from the venue, please see the relative websites:
🚂 : www.cff.ch
🚲 : https://www.publibike.ch/fr/
Shuttle
For the 8pm concerts, a free shuttle transfer is organized from the city to the venue (Ferme-Asile) at :
7:25 pm at the Tourism Office (Place de la Planta)
7:30 pm at the train station
The after concert shuttle will leave 10 minutes after the end of the concert back to the city.
Mobility
In collaboration with Transport Handicap Valais, the Sion Festival offers the trip for anyone whose physical condition would not allow them to travel from their home to the concert venue.
To arrange this, please call 027 323 85 69.
Parking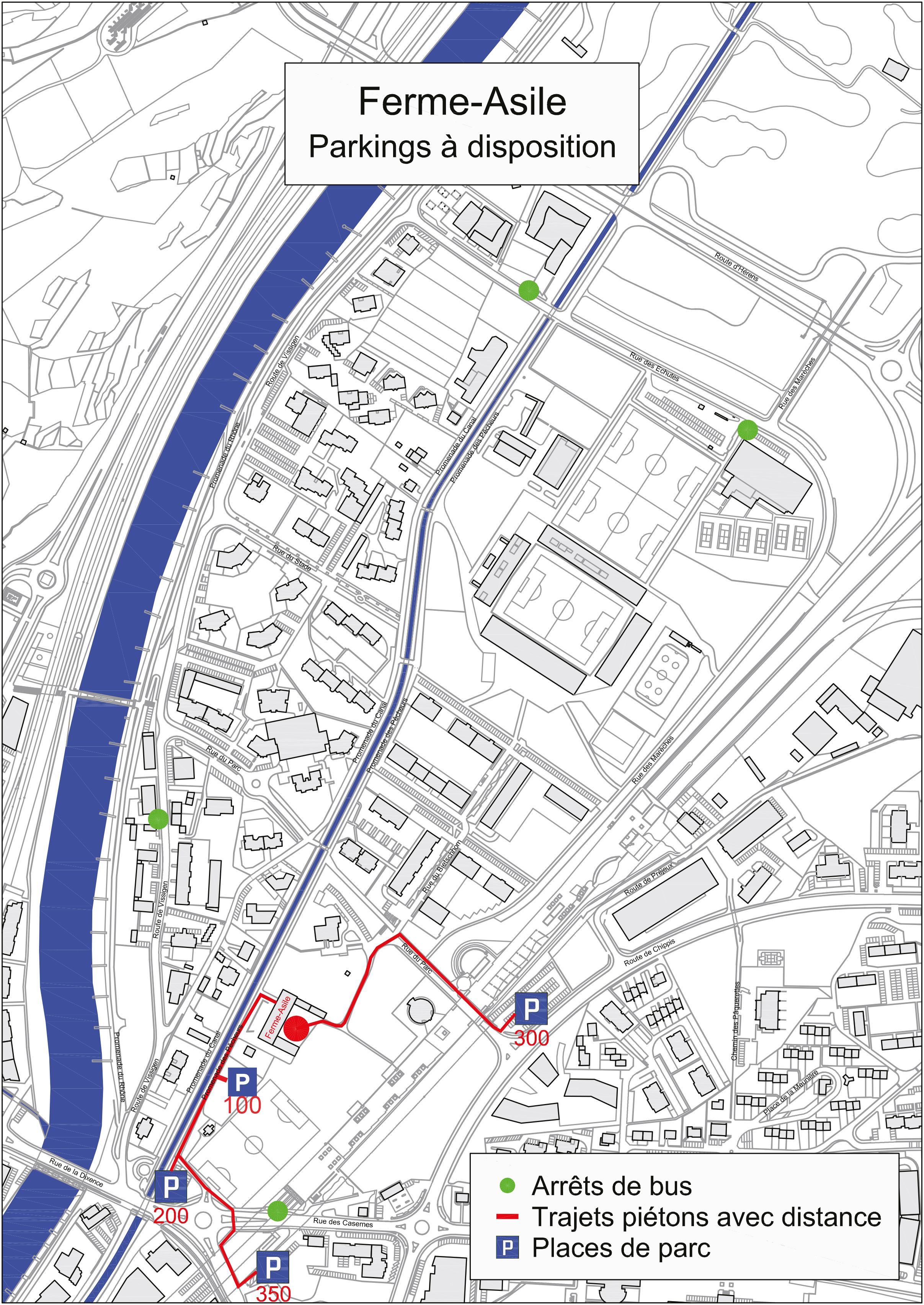 Sion
Accomodation
We recommend staying with one of our partner hotels.   In Sion:  – Hôtel Castel ***  – Hôtel Elite ***  – Hôtel du Rhône ***  – Hôtel IBIS ***   Outside Sion:  – Hôtel des vignes **** 
Eating and drinking
We highly recommend further improving your evening by having a meal in Sion before or after your concert. In particular, we recommend our partner restaurants:
– La Brasserie du Grand-Pont
– Le café-restaurant des Châteaux
– L'Enclos de Valère
– Le café-restaurant du Cheval Blanc